and have researched extensively... here it goes
1. Edna St Vincent Millay.....One of my favorite celebrities of all time. I started researching her heavily because St Vincent recommended Savage Beauty, her biography...not the best written book of all time but the most moving connecting story I have ever read. I am pretty positive she is the best poet ever. I am still trying to find audio clips of her reading poetry on the radio.
2. Dolly Parton....I am Dolly crazy. I have watched countless interviews with her, listening to her cute adorable laugh. Not to mention, listening to countless songs. This woman doesn't seem to have a mean bone in her body. My favorite part about her is that she started writing her own music with instruments she made herself and she doesn't actually know any guitar chords but makes them up herself. Her laugh her laugh her laugh soooo adorable
3. Frida Kahlo, what can I say. Her paintings I mean ya. Like Edna St Vincent Millay, her proclivity towards both men and women at the time period fascinates me. I am pretty sure that both Edna St Vincent Millay and Frida had more lovers than I will ever have in my life..both men and women oh and I aspire (aspired) As far as a sexual revolution of sorts these two celebrities actually influenced my young 20's mind very very much.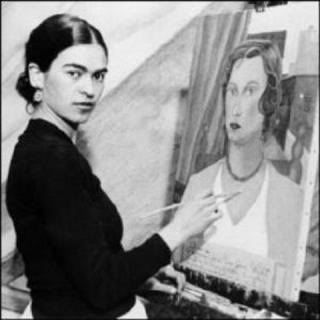 IMG]
4. Edie Sedgwick...I started researching her after netflix accidently sent me "Cio Manhattan" most likely the worst/confusing movie ever..I loved it. Also Factory Girl so good. I am pretty sure I have seen every picture of her known to man as well as watched every single clip of her.
5. Marianne Faithfull... Oh man, Marianne Faithfull one of the most babely people ever ever. There is no story behind why I am into her other than the fact that I have a huge affinity for folk music..who doesnt? If you ever want to fall in love via the internet watch "as tears go by" sung by Marianne Faithfull on youtube..better yet here..
I would just about die to be able to find the sexy tapes of her and Mick Jaggar, still looking...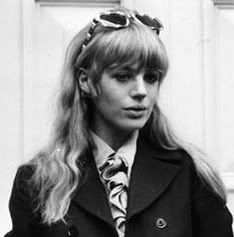 6. Charles Manson..this was during my cult researching phase I went through in San Francisco. Specifically I am fascinated by the Children of God. Anyway mass murders and suicides?? cult culture woah. He is one scary dood.
7. June Carter/Johnny Cash...I normally am not into celeb couples but I cant decide who is more interesting/talented/amazing June Carter or Johnny Cash. Cash's crash and burn lifestyle like most celebrities is of course interesting but even more so its the way he wrote his songs/ sung them. Man do I have a soft spot for country/folk
8. Kim Weston...Most likely one of the most underrated Soul Singers in history...her voice is so flippppingly good and amazing. She was found the way I find all Soul artists I am obsessed with...research...soulnights dancing dancing dancing...I wish I could have Irma Thomas, Martha Reeves and the Vandellas, Sam Cooke, the Marvellettes alll of them sing to me every night.
I wish Maggie Chascarillo counted but alas she is a comic book character.
There are others oh there are but I thought I would share these for now.....
nowww to get back to reserching objectum sexuals...you know that lady that married the Eiffell Tower?
it took me a while to do this post because I started researching them all again!
-Wray